Mail2SMS 2.0
Our Mail2SMS service has been updated with many new functions and improvements.
We would like to inform you about which news this update will bring and how it can bring more possibilities on how to use our services more than you did before.
Unicode
One of the new functions is that you can send emojis or special characters. If this function is used your SMS will be changed to a Unicode SMS which means that the amount of characters to use will be increased. One Unicode SMS can hold 70 characters and a multipart Unicode SMS can hold 67 characters for each part.

For regular SMS (160 characters) the characters below are allowed according to the GSM standard.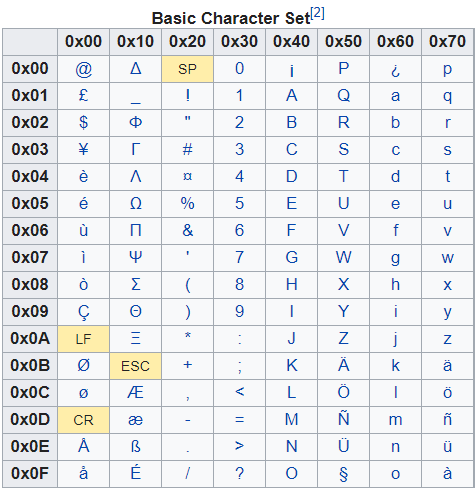 The picture shows the characters that are allowed with GSM standard for 7 bit and counts as 1 characters.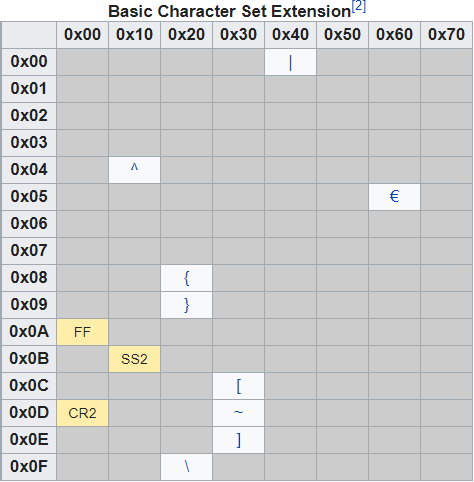 The picture shows the characters that are allowed with GSM standard for 7 bit and counts as 2 characters.
Other characters that are used will be processed as Unicode
Send MMS – pictures, video or audio
We will now be able to offer you the opportunity to send MMS directly from your mail client. The only thing you need to do is to go to the settings of your Mail2SMS address and fill out the checkbox that allows MMS. Then all your pictures, audio files and videos that are attached to your email will be sent as MMS.

Good to know
MMS are only available for Swedish mobile numbers
The sender will be 72120 and there is no possibility to change it
Maximum 300 Kb, this is the total size with image and text
If you at some point don't want to send MMS and don't want to or don't have the possibility to change the settings of your Mail2SMS address at the Customer portal you can mark the text in your email with [SMS]. The system will register this and your email will be sent as an SMS.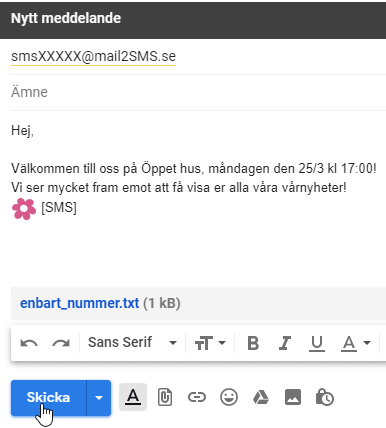 The picture shows an example of how you send an SMS via your email client when you have filled out the checkbox for MMS. In this SMS an emoji will also be send which results in a Unicode SMS. In this example we are also showing you how to attach a file with mobile numbers that will receive the SMS.
Attach a file with recipient numbers
In the settings of your Mail2SMS address you can add the variable %file% in the box named Mobile numbers. Then you will be able to attach files with mobile numbers that shall receive your SMS. If you want to you can also add %subject% in the same box to be able to use the service manually if you want to add single phone numbers as recipients of your SMS/MMS in the to field.

If you attach a file with recipient numbers to your email those numbers will receive your SMS/MMS when you send your email. The list should only contain mobile numbers with a country code in the beginning of each phone number, e.g. below: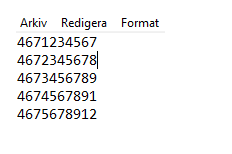 The attached list can hold up to 10 000 recipient numbers.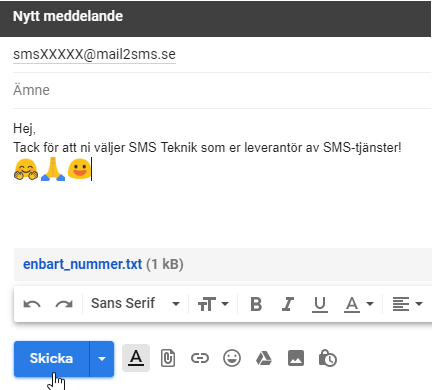 Increased the limit of multipart count
Earlier we had a limit of maximum 6 multiparts per SMS (918 characters) but now you can choose to increase this limit up to 20 multiparts per SMS (3060 characters).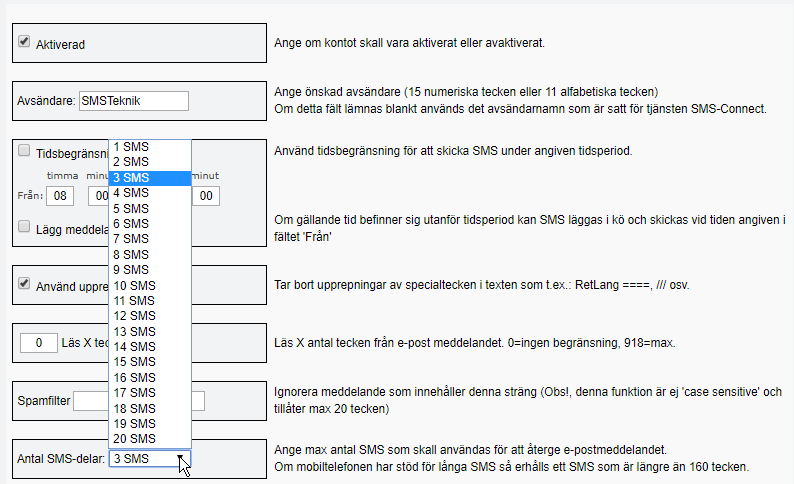 If you have any questions, thoughts or if you think this is the service you need. Don't hesitate to contact us and we will tell you more!
Sharing is caring!