Status 2.0 – Maintenance/Update
We are constantly developing our functions to give our customers the best possible service.  We have therefore updated our Status site.
In the first version, it was possible to register to receive emails in the event of operational disruptions. With this update, you will be able to sign up to receive emails for scheduled updates and maintenance.
To subscribe to our emails, click here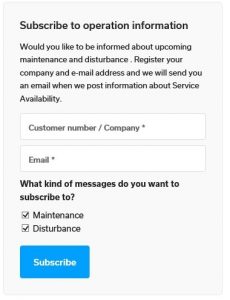 If, against all odds, you no longer want to receive these emails, you can easily unsubscribe from them by clicking on the link in the email.
Sharing is caring!