Welcome to the team
A new wonderful year is ahead of us and we want to take the opportunity to introduce our latest addition to our happy team – Matilda!
Matilda has been working since September, so she's already warm in her clothes, but now we're going to let you get to know her a little better.
Hello, my name is Matilda and I am 31 years old and originally from Dals-ed but have lived in both Gothenburg and Varberg before my partner and I decided to settle down in lovely Munkedal, when we found a house that we fell in love with. We now live there together with our two children.
I started working at SMS Teknik in September 2022 and really enjoy my new profession at this wonderful company!
The colleagues have welcomed me with open arms and it will be really exciting to continue this journey together with this wonderful group.
Before I started at SMS Teknik, I had just finished my studies as a E-commerce Product Manager.
The training gave me a lot of experience and new technical knowledge, which will come in handy in my new profession at SMS Teknik.
I look forward to the new year here at SMS Teknik and hope to hear from you via our support, where I answer both by phone and email.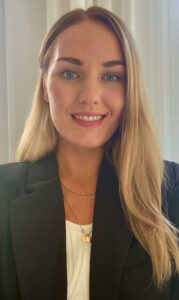 All of us at SMS Teknik are so happy and grateful that Matilda has joined our team!
Sharing is caring!